Happy Canada Day to all my fellow Canadians! Unfortunately, I'm a little late in getting this post up as I spent most of Canada Day either in airports or flying home and didn't arrive home into the GTA until the evening on Canada Day. I was in Las Vegas for a few days meeting up with some fellow nail fanatics! More about our getaway will follow in other posts; you can also check out KarenD of Frazzle and Aniploish's post
here
! The only nail plates I took with me were to do Canada Day nails for the trip home as I was flying home on Canada Day....but we were so busy out shopping for polishes and seeing the sights and shows.....aka having a great time!..... that I just couldn't fit time in to do my nails while I was away! So better late than never in doing my Canada Day nails so am sharing now! While this pix isn't the finished mani, I thought it was a kinda cool in progress as it looks like the Canadian flag.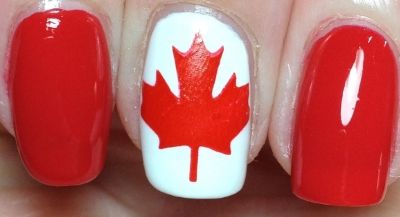 Started with a base of two coats of OPI Bride's Bouquet and Duri Taming of the Shrew; topped with SV.
Stamped the red maple leaf on middle nail with red Konad special polish using plate OB-M (I bought this plate specifically for this maple leaf image but was a little concerned it wouldn't fit as the images on the plate generally are on the large size; it's a tight fit but it did!)
Added accent of Girly Bits Canadian, eh? on thumb and pinky; topped with SV.
Stamped tips using white Konad special polish using Mash-26.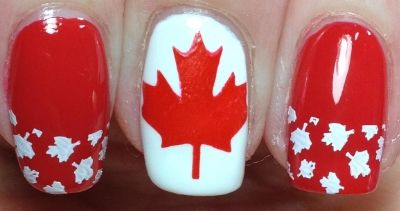 How everything looked together at this point.
While I was pretty happy with how this looked at this point, I thought I'd add a little more to it, so added the I Heart Canada using the I Heart image from plate Chez Animaux 01 and the Canada wording from fauxnad m56. Also added more maple leaf french tip images from Mash-26 twice to fill in the ring finger. Topped with SV to finish.
Another pix just because I like the look of these three nails together!

Hopefully you had a great Canada Day! I didn't do any celebrating this year as I was in transit all day. However, after my husband picked me up from the airport and drove me home, he took the kids to the local park where they watched an awesome fireworks display and my daughter seen Hedley performing. At least the family was able to enjoy some festivities...I was simply too tired from my weekend away!

Hope you're having a great week....thanks for looking!



**Post edited to correct OM-B to OB-M!