Haven't used crack in a while...polish that is!!!...so when I was deciding on my next mani and seen p2 crackling silver polish sitting there, I'd thought I'd give it a try. P2 is not available in Canada, but again, I was lucky enough to swap for it. Here's Nubar Belize Coral with one coat of p2 Silver Crackling polish, with topcoat.
This is before topcoat; it has a matte finish, typical of other crackle/shatters on the market.
While I was putting on the crackling polish, I seen it had a slight shimmer and it had the same finish of China Glaze OMG (less the holo, of course)...which got me to thinking, wouldn't holo crackle/shatter/crackling polish just be the coolest ever? I guess if you are into crackle it would be...can you just image the combination possibilities? I guess time will tell if it ever materializes...I'm gonna keep my fingers crossed! Here's a closeup of the shimmer; hopefully you cansee what I'm talking about.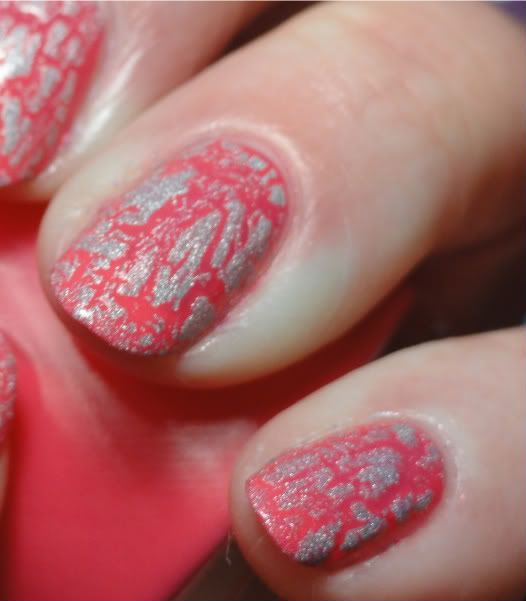 Here's a rare pix of my right hand...on this hand, I applied the crackling polish a little thicker, and you can see the effect is a bit chunkier.
And Nubar Belize Coral by itself...this would be a perfect spring or summer polish...I can't wait to try it with some stamping!
You probably know that OPI is coming out with a silver shatter; it will be interesting to see how the two compare! Hope you're having a great weekend and thx for looking!