This is a St. Paddy's mani's that I did recently.
Started with a base of Sinful Colors Envy.
Added a coat of L.A. Girls Glitter Addict Purge.
Then Spoiled Show me the Money.
Stamped with white Konad special polish using Lilic A02 and SdP 29...didn't do too good of a job centering that accent stamp I see!
Then I added a couple of the small shamrocks from A02 to the bare spots along the edge on my thumb and one of the larger ones above the horseshoe.
Here's a close up...hopefully you can see the layering of the glitter.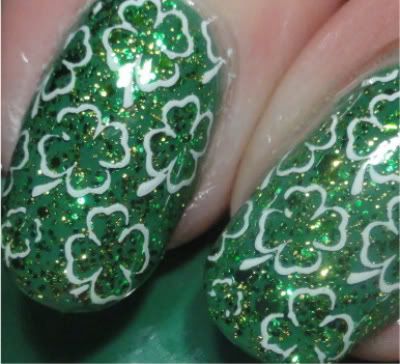 I have to thank bostonmerlin10 for this layinging combo...her combination was China Glaze Emerald Sparkled, then Jordana Green Glitz topped with Sinful Call You Later. I slightly changed it up with what I had in my stash, but wouldn't have thought of the combo without seeing her mani first, so thanks!
Just for fun, before I took it off, added a coat of Essie Matte About You.
Hope you're having a great weekend....oh, and before I forget, I want to mention that I'll soon be announcing an upcoming giveaway...details will be posted soon!
Thanks for looking!