This is the mani that I did Friday night, which I wore until I took if off to do the Father's Day mani. Two coats of Essie Da Bush. Then stamped using Konad black special polish using fauxnad's D11 and SdP D-05.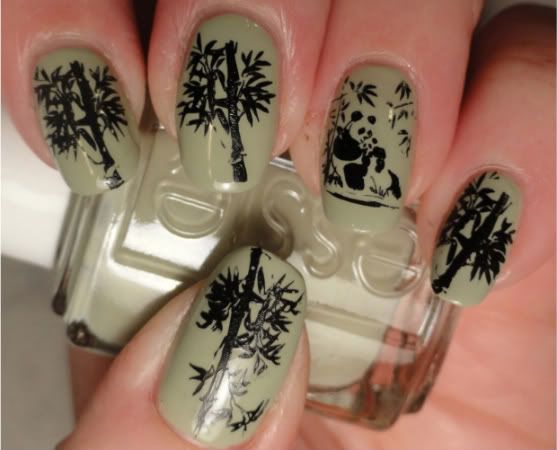 Here's Essie Da Bush by itself...lighting isn't the best as I was away for the weekend and don't have access to the somewhat better lighting like I have at home.... but hopefully you get the idea of the colour....
This colour is a little tame for me as I'm more into the bright colours but I did like the way it turned out. For me, the stamping made the mani a little more interesting...otherwise, its a little on the drab side for me. I'm not sure if you can tell from the stamping, but the stamping on my fingers only has about half the image used but the thumb nail has a little bit more of the bamboo leaves, just so you get an idea of how large the image is on this D plate.
Thx to everyone who entered my giveaway which is now closed! I'm working on getting everything together to announce the winners. I also want to welcome those of you who have started following me after the giveaway ended. Thanks so much for checking out my little blog! I have another giveaway in mind ..... I always planned on having a 500 follower giveaway (which is surpassed..so thank you everyone!) or a one year bloggiversary (which also passed a week or so ago and I never noticed....d'uh!) so I'll be announcing something soon...but gotta conclude this giveaway first so I'll do it soon....now, if only Canada Post will start delivering mail again.....!
Thx for looking and hope you're having a wonderful day!