It's the Year of The Dragon!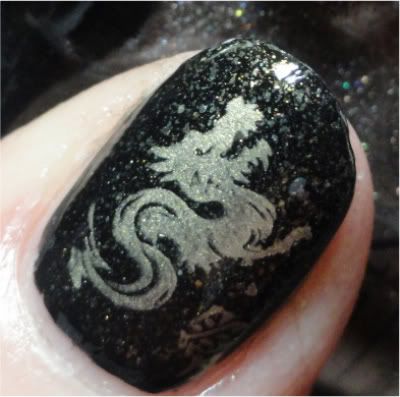 This is the mani I had on yesterday.
Started with a base of Wet n Wild Black Creme and accent finger of Duri Taming of the Shrew.
Added coat of Essie As Gold as it Gets.
As I wanted the gold flakies to stand out, I decided to add a coat of Essie Matte About You. Really liked the end result on the accent nail; will have to keep this in mind for another mani! I applied Essie Gold About You on my middle finger first; unfortunately, it was really goopy and I applied it too thick, which can really be seen in this pix after it was mattified.
Then stamped, using black Konad special polish and CND Gold Chrome using fauxnad m27. When I was looking through my plates, I was surprised that there were so many dragon images...but thought that this one was the most appropriate. In hindsight, I think I should have stamped the images sideways like on the thumb as the dragon was too long for the width of my nails and I cut the tail off most of the images...some of the stamps kinda look like wolves now! lol!
Added a few accent symbols...unfortunately, I don't know what they say so take them with a grain of salt! And that blob on the middle finger is suppose to be a fan; however, it didn't transfer too well. I couldn't remove it and redo as my nails were mattified.
After looking at my mani for a bit, I decided that I ultimately wanted to add a topcoat so topped with a coat of SV. I'm glad I did because I liked the result better than left at matte.
Lastly, I woke up Saturday morning to see this:
Thanks so much for making this happen! I never thought in a million years that a 1000 people would ever want to check out my little blog!
Have a great New Year if you are celebrating today...and if not, I hope you enjoy my mani anyway!
Thanks for looking!
Edited to reflect that I forgot to add CND Gold Chrome polish.