This is another one of those mani's I did with veryyyyy short nails. I was pretty pleased how it turned out considering there isn't a whole lot of nail to stamp! lol!
Started with Orly Nite Owl as the base, two coats. This is such a beautiful polish that I haven't seen a lot of love for in the blogesphere for some reason.....a neutral with an edge!...maybe because it was released in the same collex as Orly Fowl Play which seemed to get all the attention! The shimmer is so what I seem to be into lately.
Stamped using QA 7. I've numbered the images on the plate I used for the mani for reference.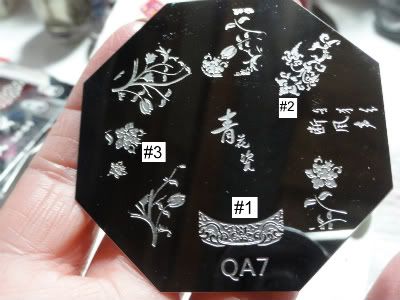 Used Konad black special polish using Image #1 on most of the nails and Image #2 on accent ring finger. I actually didn't do too bad lining up the tips for once! Yeah me! Not perfect, but decent! Unfortunately, the little dip in the centre of the tipped image accentuates any lining up errors. Oh well....not perfect but better than I've done in the past.
The above look was actually what I had planned in my mind when I started the mani...I was kinda going for 'simple elegance'. But then I got to looking at it and in my mind, it seemed more simple then elegant..... even plain. So added more stamping using Image #2 on the thumb and ring finger, the small flower on Image #3 on pointer, and the large flower on Image #3 on pinky with Konad white special polish.
This is more like it! But ultimately, I decided to add some accent stamping on top of the white on the thumb and middle finger using the small flower on Image #3 on the middle finger and the large flower on Image #3 on the thumb using black Konad special polish.
Waited a few minutes, added a coat of SV. The topcoat just really makes the stamping polishes pop as I've said before, especially the black, if you compare the ring finger on the pix above with the pix below.
I was pretty pleased with how this turned out...this was some pretty cool stamping (to me anyway!) on my nubby nails. But looking at these pix, I seriously need to work on my cleanup....black Konad is the worst to clean up!
Thanks for looking!