Yesterday was the Grey Cup and for those not familiar with it, it's like the Super Bowl but the Canadian version of it! Mayyyyybe not
as big
as the Super Bowl, but it's the final game for all the teams in the CFL. The final was between the Toronto Argonauts and the Calgary Stampeders and it was played in Toronto. These were the nails I was wearing for the game.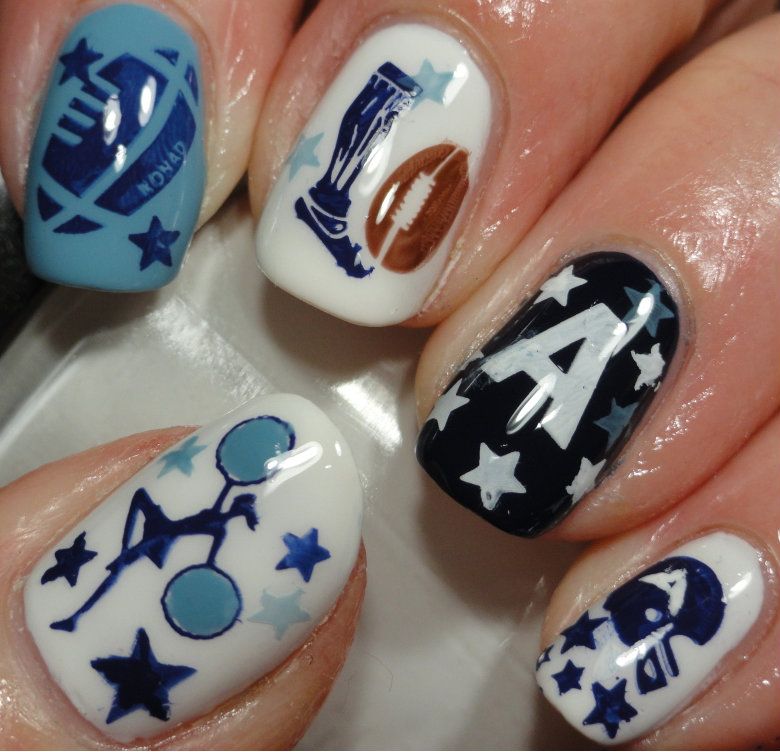 Started with a base of two coats each of OPI Bride's Bouquet (white), Sation Blue Sky's The Limit (light blue) and Duri Blueberry Daiquiri (dark blue).
Stamped using Konad royal purple, brown and white stamping polishing polishes using QA9 (A on ring), Konad S7 (cheerleader on thumb), CH35 (both images on middle as well as pinky) and Konad m52 (football on index)
Added a few random stars using assortment of base and stamping polishes, then topped with SV. I also freehanded an A on the helmet on the pinky. I did think about taking a small A from the etching off plates that identify them (like A series or the A from the QA plate), but didn't think I'd be able to stamp it bang on in the middle of the helmet so decided to freehand it instead. I also free handed the pom poms with the Sation polish and a brush too.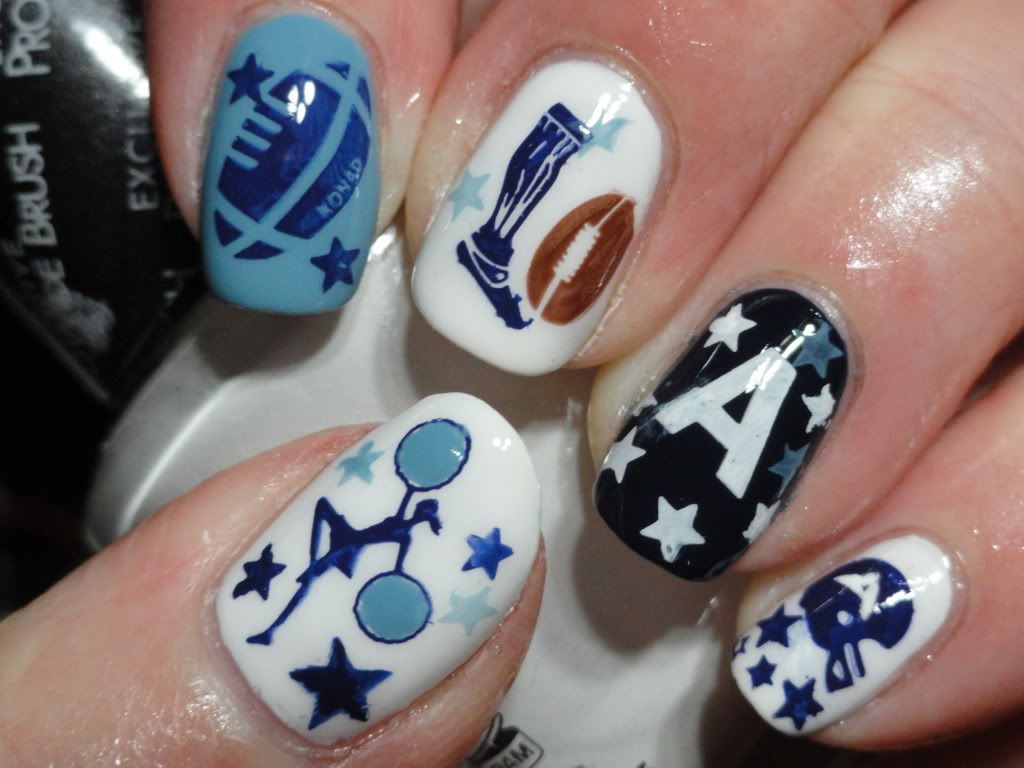 TBH, I'm not THAT much of a football fan, but Toronto is about as close as a home team for football that I'm ever going to have. I watched the game along with the hubby and my sons and also spent the afternoon making appropriate football-watching food (pulled pork, chili and the like) and I needed no excuse other than the game to do a theme mani and the Grey Cup was as good as any! But the Argo's did the take the cup, 35-22, and it was a great game...it was a pretty good Canadian halftime show too! Yeah, Argo's!!!!
Thanks for looking!